Smile confidently with Invisalign
The Clear Alternative to Braces
If you're ready for a smile that transforms your appearance, Invisalign is your answer. Invisalign treatment straightens teeth through a series of clear, comfortable and removable aligners.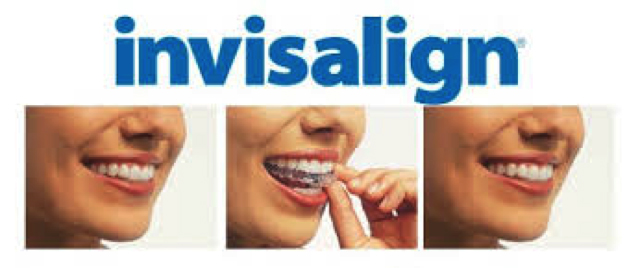 Each aligner is slightly different, moving your teeth gradually into the desired position.
Set your smile straight – without braces. Ask us about Invisalign today.
Differences between Invisalign and Braces
| | | |
| --- | --- | --- |
| Invisalign aligners |   | Traditional braces |
| Invisalign aligners are nearly invisible so it's difficult for others to notice the treatment. | | The wires and brackets of traditional braces are visible. |
| Most patients may feel pressure in the early stage when starting with the first few Invisalign aligners. | | Most patients may feel pain each time braces are adjusted. The metal brackets may also irritate the mouth and cause ulcers. |
| Invisalign aligners are removable. You can remove them before eating/drinking and easily brush and floss to maintain good oral hygiene. | | Braces are fixed and not removable during the teeth straightening treatment. This makes it difficult to eat certain types of food (e.g. apples, nuts) and it can be difficult to clean and floss your teeth with the braces in. |
| Approximately 6-8 weeks between doctor visits. | | Approximately 3-4 weeks between doctor visits. |
| Invisalign treatment allows you to visualise each stage of the treatment process, from the beginning to the end, giving you a clearer picture of the treatment duration. | | Traditional braces can only give you an estimate of the duration of treatment at the beginning of the treatment process. |
Treatment process
Step 1: Initially, your Invisalign-trained doctor will take photos, X-rays, and digital scans or a dental impression to help create your treatment plan.
Step 2: The maker of Invisalign clear aligners will then use these records, along with the treatment prescribed by your doctor to create a customised 3D treatment plan just for you.
Step 3: The customised aligners will be manufactured and shipped to your doctor's office.
Step 4: Your series of custom-made aligners will be given to you (typically 3-4 sets at a time) for you to wear everyday and change them at home every 2 weeks.
Step 5: You'll be visiting your doctor approximately every 6-8 weeks to monitor the progress of your treatment and receive the next series of aligners.
Step 6: After you've finished your Invisalign aligner treatment, you may need to use retainers to help make sure the new position of your teeth is maintained.
FAQ
Question 1: What is Invisalign system?
The Invisalign System is a virtually invisible and hygienic orthodontic treatment that uses an innovative approach to effectively straighten teeth. With our proprietary SmartForce Technology, the Invisalign System uses a series of custom-made removable aligners created for you and only you. These aligners are made of a virtually invisible plastic that you wear over your teeth to gradually move them to the ideal position. Most people won't even notice you're wearing them, allowing you to keep your lifestyle during treatment. The Invisalign System is available through Invisalign-trained doctors who determine the treatment plan. Learn more here.
Question 2 : How does Invisalign treatment works?
Once you and your Invisalign-trained doctor agree that Invisalign treatment is right for you, your doctor will take photos, X-rays, and either impressions or a scan of your teeth. These records will be used to make a 3D treatment plan, referred to as the ClinCheck treatment plan, which will be used to design the custom-made Invisalign aligners. This 3D treatment plan will also show your likely final tooth position at the end of the treatment. Your custom-made Invisalign aligners will be produced and then shipped to your doctor, who will then give you a series of aligners, typically 3 to 4 sets at a time. You will replace each one approximately every 2 weeks until the final position of your teeth is reached. Get the full details of the treatment process here.
Question 3: What are the advantages of Invisalign treatment?
Like other teeth straightening approaches, Invisalign aligners are also an effective way to straighten teeth. There are also several other specific advantages to Invisalign treatment:
Virtually invisible: Invisalign aligners are a clear alternative to braces, giving you a virtually invisible treatment option that lets you keep your confidence, beautiful smile, and lifestyle even when you are in
treatment.
More comfortable: Invisalign aligners are comfortable, with no metal brackets to irritate your gums or the inside of your mouth.
Maintain oral hygiene: Invisalign aligners are removable so it's easier to clean your teeth and maintain your oral health during treatment.
Potentially fewer doctor visits: Invisalign treatment typically requires fewer doctor visits than some types of braces.

Visualise the progressive movement:

Invisalign Treatment allows you to visualise each stage of the treatment process, from the beginning to the end. Also, some patients may require additional steps
like refinement, to complete the treatment.
If you have any questions, please feel free to call us on 0800 268 954 or email us on appointment@hillparkdental.co.nz